There's A Lot More to Ceiling Fans Than Just Cooling
Ever wondered during a hot summer to install a ceiling fan?  Did you know that ceiling fans can also be of help in the winter as well? Have one installed because of the many benefits they offer? Ceiling fans circulate air, cool a hot area and save money because they use less electricity.  In winter months, reversing the direction can also help the heat stay in the area and also help save at least 10% on your electrical bill. Matt Pearson Electrical can install the perfect ceiling fan for your cooling and heat needs.
The Benefits
The benefits of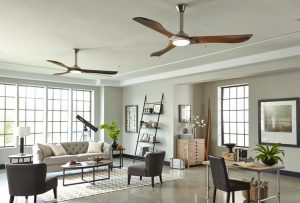 having a ceiling fan installed to result in cost saving and cooling benefits.  How it works. The slightly angled blades of a ceiling fan when turning counter clockwise moves air downward. This causes a flow of air to be pushed around and circulates the air producing the wind chill effect. Doesn't that sound like a breath of fresh air on a hot summer day? That being said, it makes perfectly good sense to hire Matt Pearson Electrical to install your ceiling fan. Add a fan to a bedroom, living room, dining room, and even a kitchen.  In case a little more decor is desired, ceiling fans also offer a sophisticated look of a room. Ever notice how comfortable a room feels with a gorgeous ceiling fan?  Fans are a great way to add a little something extra to fill a space and a brush of fresh air.  Modern ceiling fans come equipped with lighting fixtures that provide a beautiful well lit room along with cooling qualities. They can also be installed in almost any ceiling surface.
In the winter time, warm air generated by your heating system rises naturally upward, while the cooler air sinks downward. When cranking a heater up to the highest setting trying to heat every room in the house thus using more energy which can skyrocket an electrical bill. By using a ceiling fan circulating clockwise, the hot air is pushed downward keeping heat from rising. In today's economy, saving money in the best possible way to conserve energy is a must.  Having ceiling fans installed by Pearson Electric is the answer to your savings.
Matt Pearson Electrical offers the best affordable plan available to have a ceiling fan installed correctly. Our electricians have years of experience. Call Matt Pearson Electrical 0425 285 679 to get an estimate and to see how cool ceilings fan can be!
Save